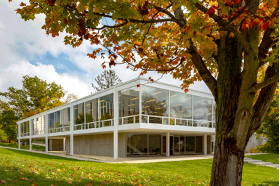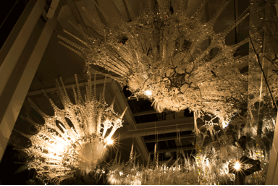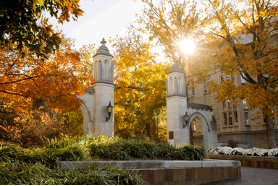 Schedule
Friday, October 21 – 1:00 p.m. – 10:00 p.m.
1:00 – 4:00 pm – Reacquaint yourself with your alma mater on a self-guided tour
3:00 – 6:00 pm – Conference Registration
6:00 – 9:00 pm – Reception and Opening Dinner with an address by IU President Pamela Whitten in the Indiana Memorial Union Alumni Hall
9:00 pm – Afterglow in The Vault in the IMU Commons (the reimagined Kiva Coffeehouse)
Saturday, October 22 – 8:00 a.m. – 9:00 p.m.
7:45 – 8:30 am – Breakfast
9:00 am – 12:30 pm – Visit two of IU's newest and most innovative programs: Luddy School of Informatics, Computing, and Engineering and Eskenazi School of Art, Architecture + Design
9:00 – 10:30 am – Travel by bus to meet the new dean of the Luddy School, Joanna Millunchick. Then take a tour of Luddy Hall classrooms and view the sentient architecture installation, Amatria.
10:45 am – 12:15 pm – Travel to the IU Cinema for a presentation by the founding dean of the Eskenazi School of Art, Architecture + Design, Peg Faimon, followed by a tour of the school's new home, designed by famed architect, Mies van der Rohe.
12:30 – 2:30 pm – Informal lunch and presentations by the current class of Aeons
3:00 – 5:00 pm – Break
5:00 – 8:00 pm – Reception and Dinner with an address by James Capshew, Indiana University's resident historian, and an opportunity to view the Aeons archives
8:00 pm – Afterglow in The Vault in the IMU Commons
Sunday, October 23
9:00 – 11:00 am – Brunch in President's Hall featuring IU's Vice President for Capital Planning and Facilities, Thomas A. Morrison. VP Morrison will highlight the vision for the future of IU Bloomington's woodland campus
 Reunion Committee Members: Amy Balcius (AB.A. '94), Neil Diver (B.S. '60), Jay B. Hunt (B.A. '62), Gary Kovener (B.S. '68), Clare O. Krusing (B.A. '10), Stephen Moberly (B.A. '63), Dave Neumann (B.S. '82), Claire Repsholdt (B.A. '17), Brian P. Williams (B.A. '78)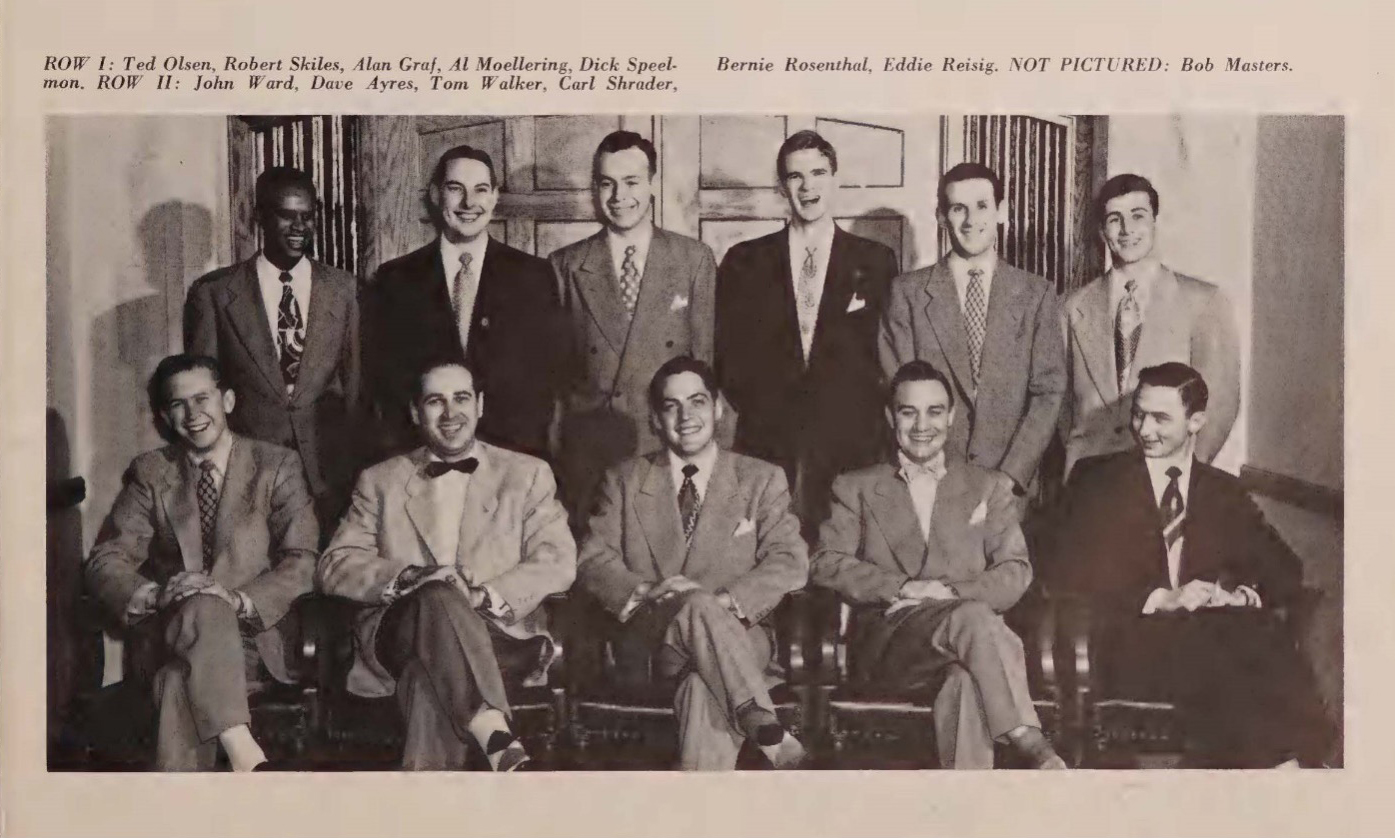 Bernie Rosenthal Interview
(Telecon September 26, 2022
By Gary Kovener & Christina Yang)
      My journey to Indiana University, the Aeons, and professional careers began in March 1928 when born during the Great Depression. I was raised in a tenement apartment in the Bronx, New York.
    Earliest kid friends were all immigrants. They were Irish, Chinese, Eastern Europe immigrants, Greeks and Blacks. We were street urchins in a concrete jungle My family consisted of parents, a brother, two years my senior, and another brother and sister about 12 years older. Both parents worked six days a week. Dad, poorly educated, had natural architectural skills. He was a part time trade school teacher and had a job in a shoe store in Harlem. Mother was in millinery sales. Why the tenement? Their business on Long Island had collapsed during the Depression.
     I digested the worldly atmosphere surrounding me. My focus on achieving a better life surfaced. I passed a NYC test to attend Stuyvesant High School in Manhattan. Brother Robert was already there. Came World War II. Oldest brother had a basketball scholarship to Butler in Indianapolis. It had a link to Indiana University. Parents moved to Louisville. Robert, enrolled at IU. He was drafted into the Marines the second semester. I finished high school and joined the Marines at age 17. Robert and I had special Marine training. He served aboard the battleship Missouri. I was on the aircraft carrier Antietam.
     After the war, Robert returned to IU. I followed two years later at age 22. The new students straight from high school seemed oblivious to the recent war. Campus atmosphere for this small midwestern college, perhaps 10,000 students then, was laid back and friendly.
     I lived in West Hall. My courses included English, History, Astronomy, French and Journalism. I sat next to a coed in the Psych class. Tony was from NYC so we had a friendly connection. Money was tight even with the GI Bill. She mentioned a waiters position open at her sorority, Delta Zeta. I skipped my next class and dashed to the DZ house. Got the job. No money but two meals every day. One on Sunday. Meals and all those coeds. It was paradise. I knew Tony all her life. When on business in NYC her family invited me to their home.
     I quickly settled into non-Frat independent life. Reach out interests had me accepted into academic honor groups. Journalism and the Daily Student newspaper were my entire focus.
     During Freshman and Sophomore summers I was a reporter on the New Albany Tribune. Hitch hiking was my transportation to and from campus. I purchased a 1941 Studebaker for $200 after the junior year. Parking on campus was restricted. I parked behind the coal stack by the main heating plant. Parking ticket dollar violations accumulated. My presence was requested by President's Wells' office.                               
     Mr. Wells reviewed my campus activities, especially activity planning for a men's new residence center. No parking tickets were mentioned. He was cordial and friendly. He asked me to be an Aeon during my senior year. I also accepted a live-in position as a dormitory counselor at one of the east end barrack buildings. Small pay. Much responsibility.
     The Korean War started as my senior year was beginning. The word Draft became evident. Campus atmosphere was somewhat subdued. The main conversation and news topic, the Kinsey report on sexual behavior!                       
      I was named Outstanding Senior Journalist for 1951. My first job was public relations for General Electric in Louisville. In 1954 I jointed the Bingham media dynasty. The Courier-Journal, Louisville Times, WHAS Television and Radio. The first 20 years with the newspapers included positions in advertising, marketing, corporate planning, research, and president of a subsidiary in California. I did some freelance writing.
       I enjoyed my communication and leadership skills that blossomed. Two decades as an adjunct professor of marketing at the University of Louisville, president of the Kentucky Derby Festival, the Society of Louisville Professional Journalists, the Advertising Federation of Louisville, and other roles with the Better Business Bureau, economic development with the Chamber of Commerce, and seats with various non-profits.
    The next eleven years were with the WHAS broadcasting media. I retired as broadcast business manager in December 1985 after 31 Bingham media years. I became president of a media firm in Washington, D.C.  After some D.C. twists and turns, the next decade was with the Central Intelligence Agency. The CIA years, mostly abroad, spanned over 20 countries from Thailand, Japan, Hong Kong, the Far East, Central and South America, London and elsewhere.
     My years at I.U. and as an Aeon were significant to my personal and professional maturity.  I wish to acknowledge every IU moment.
     Years later I met President Herman B Wells at several IU functions in Jeffersonville and Southern Indiana. He was still short, heavy, with a very wide girth. Always friendly. We joked about my parking tickets and the significance of being an Aeon.